Dirk Benedict
Movie, television & stage actor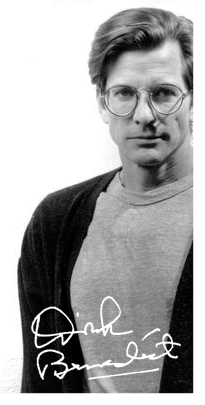 Dirk Benedict (born March 1, 1945) is perhaps best known for playing the characters Lieutenant Templeton "Faceman" Peck in "The A-Team" television series and Lieutenant Starbuck in the original "Battlestar Galactica" film and television series.
Benedict's film debut was in the 1972 film "Georgia, Georgia". When the New York run for "Butterflies Are Free" ended, he received an offer to repeat his performance in Hawaii, opposite Barbara Rush. While there, he appeared as a guest lead on "Hawaii Five-O". The producers of a horror film called "Ssssss" saw Benedict's performance in Hawaii Five-O and promptly cast him as the lead in that movie. He next played the psychotic wife-beating husband of Twiggy in her American film debut, "W". Benedict starred in the television series "Chopper One" which aired for one season in 1974. He also made an appearance in "Charlie's Angels".
His career break came in 1978 when he appeared as Starbuck in the movie and television series "Battlestar Galactica". Four years later, gained further popularity as Templeton "Face" Peck in 1980s action television series, "The A-Team". He played "Faceman" from 1982 to 1986. The second season episode, "Steel", includes a scene at Universal Studios where Face is seen looking bemused as a Cylon walks by him - an in-joke to his previous role in Battlestar Galactica. The clip is incorporated into the series' opening credit sequence from the third season onward. [Abridged excerpts from Wikipedia]
Dirk was asked to be our patron as the Face Films name comes from William's nickname in school was that of Dirk's character "Faceman" in The A-Team.